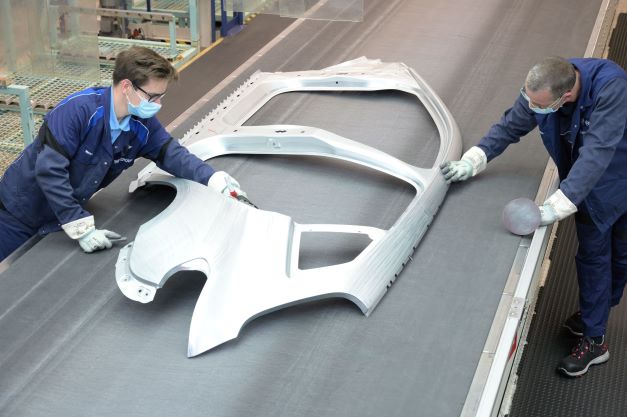 BMW spends $200 million to add press store in South Carolina
BMW said it would invest $200 million to build a 219,000 square foot press shop at its South Carolina plant.
The investment will create 200 new jobs. The announcement was made by BMW Manufacturing President and CEO Robert Engelhorn at the South Carolina Automotive Summit in Greenville.
The new stamping shop, which will go into production in the summer of 2024, will take raw steel coils, cut them into blanks and stamp sheet metal parts for future BMW models. These components include overhead parts such as the four doors, fenders, outer body sides, and the vehicle's tailgate.
"The BMW Group is known worldwide for the exceptional quality of its press shops. We are excited to add this new technology to the Spartanburg plant," said Engelhorn. "This investment reinforces BMW's commitment to the United States and South Carolina. We continue to play a major role in the region's economic strength as well as in workforce development and skills training.
Press shop jobs include tool and die technicians, electrical and mechanical maintenance of automated machinery, and specialty line operators. About 45 Spartanburg workers are currently being trained at the group's press shops in Leipzig, Germany, and Swindon, England. These people also train with workers from the Schuler group, which manufactures lines of automated servo presses for all BMW factories.
The Spartanburg press line will consist of five press (stamping) stations. The line will be equipped with servo technology which allows a significant increase in output. The line press is capable of running up to 18 strokes per minute. After the parts are stamped, they pass through quality control for inspection and are then stacked in racks ready for delivery to the body shop production line.
"Having a press shop on site is part of BMW's localization strategy where we produce our key parts where we need them," Engelhorn said.
While Schuler will manufacture the automated press line, all tools for the Spartanburg press shop will come from BMW stores in Eisenach, Munich and Dingolfing.
Since 1992, BMW Group has invested $12 billion in its South Carolina operations, which now build 1,500 vehicles a day. The factory exports 60% of its production to around 120 markets. For eight consecutive years, it has been the largest exporter by value in the United States.