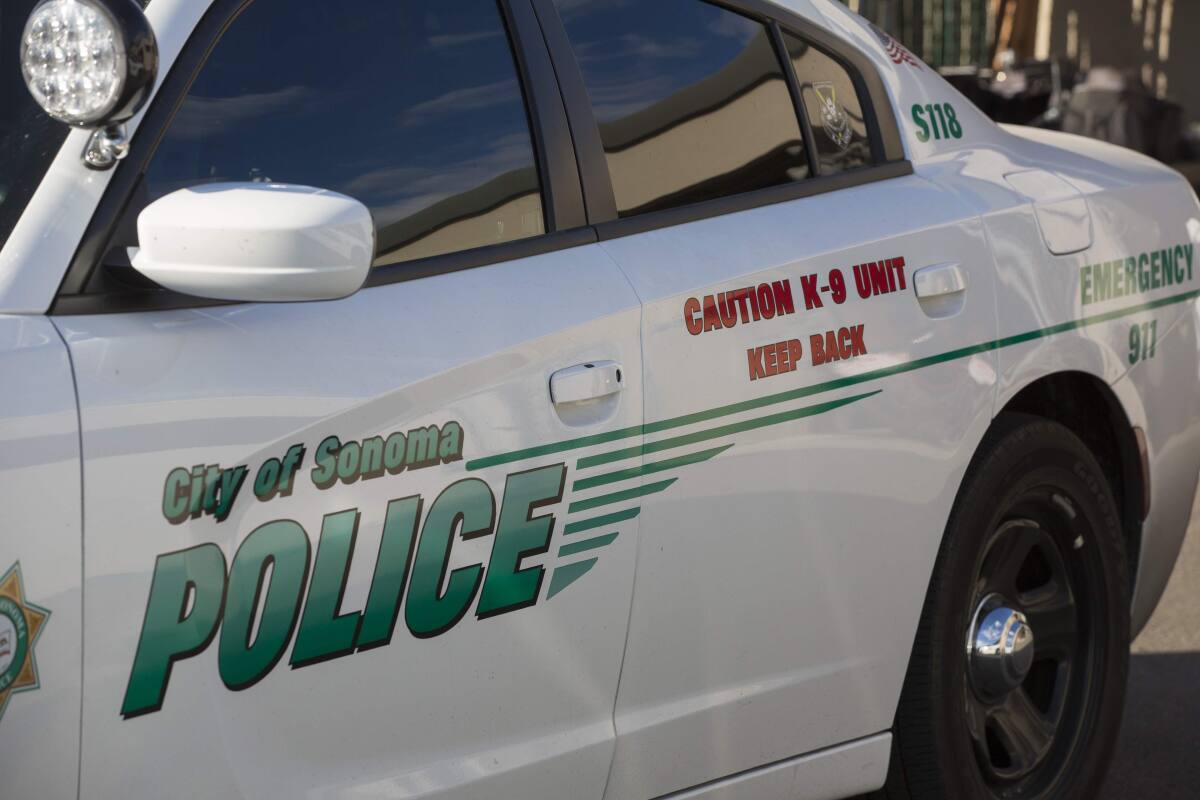 Tire slasher hits Andrieux, Bettencourt
Tires of several flat vehicles
Six cars had their tires slashed between July 14 and July 16 while parked between Andrieux Street and Bettencourt Lane, Sonoma Police Sgt. Scott McKinnon.
Vehicle damage is estimated at $2,400. There is no suspicious information for the incidents, McKinnon said.
Home battery
Sonoma police responded to a domestic battery call at the 1300 block of Broadway on July 18, after a verbal argument between a couple over dinner turned physical, according to McKinnon.
Two Castro Valley men were visiting the city of Sonoma to volunteer for a winery event, McKinnon said. The victim chose to go out to dinner, while the suspect wanted to stay at the hotel and take a nap, each choosing their favorite activity.
Upon his return, a verbal argument began and the suspect attempted to drive away in a rental car. The suspect was pushed away by the victim, who was then pushed to the ground by the suspect, causing no visible injury.
The victim called Sonoma police who arrived and arrested the suspect for misdemeanor domestic battery, according to Scott McKinnon.
Car burglary
On July 17 at around 2:28 p.m., Sonoma police responded to a reported car burglary at the 400 block of West First Street where multiple credit cards were stolen from the victim's car, McKinnon said.
A woman was visiting Sonoma for the Napa-to-Sonoma Wine Country Half Marathon left her belongings in the trunk of her rental car at 5:15 a.m. and entered the marathon.
At 9:08 a.m., the victim received a text message for fraudulent activity on his Chase Bank card, alerting him to a charge of $730. Three other transactions took place at Target, one for $530 and two for $424 each. Another $50 charge was accumulated in a Chevron.
The victim returned to the rental car and discovered that personal documents and credit cards had been stolen. There was no evidence of forcible entry, McKinnon said, but the victim said she locked the vehicle. Police searched for surveillance video near the location of the car, but were unable to find any additional evidence.
Injury to spouse
A heated argument between a 20-year-old married couple escalated into injuries July 14 at 8:09 p.m. on Highway 12, according to McKinnon.
The suspect began arguing with his wife, spitting at her approximately 12 times. The victim attempted to move away from the suspect as he continued to shout profanity at her.
The suspect then ripped off the victim's shirt and bra before she could separate herself from the assault.
When deputies arrived at the scene, the suspect admitted to drinking alcohol and deputies observed superficial scratches visible on both sides of the victim's neck.
"Due to injuries and a victim impact statement, the man has been arrested for felony domestic violence," McKinnon said. "He was also arrested for violation of probation" for drinking while on probation for impaired driving.
Contact Chase Hunter at [email protected] and follow @Chase_HunterB on Twitter.